(Added 7/17/01): I thought I should add this important note. Ryan does have a manager right now and is being submitted for acting jobs regularly!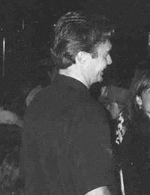 (As of 7/16/01): Ryan was a self-admitted homebody during his months off and is back to work right now on "My Wife and Kids". During his time off he worked on his house and his computer. Mainly he has been looking around at what's on the web, observing auctions and such, especially collectibles dealing with ships and also a few Hollywood collectibles (James Cagney, his father and a few other favorites). Yes, he also saw what that photo of him in "Jesse Hawkes" went for and was a bit stunned and impressed. He has also been dating a few ladies, but no one exclusively as of yet.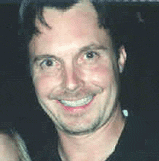 He has also been extremely involved with a play reading company and truly enjoys it. They read a range of styles - classics as well as modern. In fact, they are thinking of performing some of the pieces publically. He'll keep us informed on that. The latest piece: "California Suite" (I believe by Neil Simon) with Ryan playing the role of Sydney. Ryan says he enjoys character acting and has quite a bit of un with it. This particular role was no exception - Sydney is, as Ryan described with a chuckle, "a gay art dealer from London".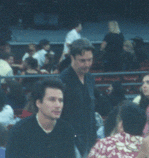 As I stated earlier, he is back to work on "My Wife and Kids" and plans to stay there for right now (actually, he hopes to just keep working through next spring). He has also worked on two other pilots: the new Jim Belushi show called "The Dad" and another show called "The Web".
Some of you asked if Ryan got to see any of the summer movies and he responded immediately, "Pearl Harbor". But what did he think of it (keeping in mind that, like Titanic, he is a collector of historical memorabilia surrounding that time)? He didn't like it. He liked the special effects (it's hard not to), but he really didn't like the story and felt it got in the way. Harkening back to the conversation we had years back about "Titanic", he indicated that he kind of felt the same way here - the effects were interesting to watch but there were definite flaws.
For those of you waiting to see what he will contribute to the upcoming Jack Cassidy Walk of Fame Project Auction, you'll just have to wait a litle longer. He hasn't decided yet but will let us know!
(As of 5/5/01): Spoke with Ryan this afternoon and he was interviewed for the Lifetime Intimate Portrait on his mother Shirley Jones (click on the link and there is a nice bio on her). In fact, he's in it the whole way though. The episode will premiere Monday May 7 at 7 pm EST/PST (thanks to Ryan for the info and Lina for the tip).
Also, Ryan is on break now. Contrary to previous reports, he is actually a set dresser on "My Wife and Kids", thank you very much. Yeah, mom's been bragging on him again. It's a mom's job, isn't it?
Here's another heads up - Ryan is now online. He has a computer and he's not afraid to use it. So, your e-mails will be directly forwarded to him from now on(you can send him e-mails here). He has checked in on this site as well as his father's site. (He's been an important component of jackcassidy.net/jackcassidy.com from the beginning - Nancy and I are just glad he's able to see the progress.)
If y'all want webmaster news, I have moved and am now inundated with work from tvtome.com - a new database on television shows and stars and such. I've been editor of Ryan's listing for awhile but am now editing the entries for nearly everyone in the Cassidy family plus three television shows. I'm slowly handing the entries off but it's been a time-comsuming task to get things entered into the system!
(As of 4/2/01): Ryan has been extremely busy trying to get in as much work as possible before the strike hits in May. As previously mentioned, he has been busy behind the scenes withthe ABC sitcom "My Wife and Kids" and is also working on an as-of-yet unnamed pilot with Jim Belushi.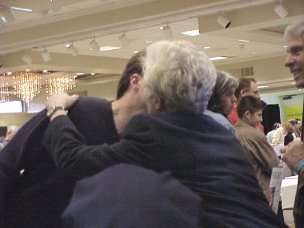 He has also been working with a play reading group. They meet once a week and read a different ply. Something could develop from there but he does enjoy it. For those of you curious about what's happeneing with "Danny and the Deep Blue Sea", the play he was working on last year in a scene-study class, he still has it in mind but is a bit discouraged since it has been performed so much lately. He hasn't completely ruled it out, though.
As for the strike, it is looking like a real possibility. However, Ryan feels that if the economy becomes much worse, they might hold off on the strike due to the impact it could have.
For those of you wondering about his feelings on the sale of his mother's house, check the FAQ page. In addition, a teacher in Maryland sent a few questions for Ryan about basic points of acting to use in teaching his class. Ryan happily helped out and some of the Q&A have been placed in the FAQ as well.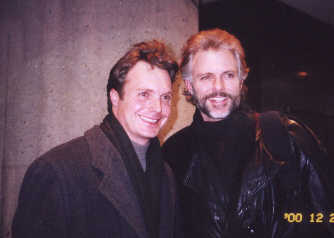 (As of 1/5/01): Ryan called and we talked briefly - he's been really busy since he got back from New York - basic errands but also working. He will call and answer you FAQ questions as soon as he gets a chance to breathe! He also says he has a touch of a cold, but otherwise he is doing great!
As of 1/2/01: Ryan spent at least part of his holidays with brother Patrick in New York City and went to see Patirck perform in Annie Get Your Gun on December 28.(Photo in this section taken by Nadine.)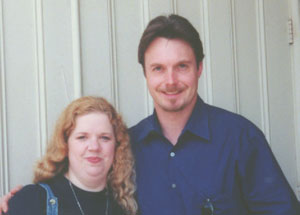 (As of 11/14/00: Ryan has switched shows and is now working on the new Damon Wayans show called "My Wife And Kids". The show will run on the ABC network. He seems to like it thus far and has been extremely busy. He's quite pleased that Nick At Nite is showing his episodes of Facts of Life and was considering watching them for old time's sake. (Thanks to everyone who wrote to Nick At Nite!) I'll be sending him your questions along with a stack of 8x10s which he has promised to return ASAP so we can get them out to everyone. He seemed a bit shocked that we were out of them already! We only spoke briefly but we will hear from him again as soon as his schedule slows. Ryan also reiterated that he truly appreciates the work being done to create a site for his father and everyone who has stepped forward to help. It means a lot to him and the rest of the family.
As of 9/10/00: Ryan is very busy working behind the scenes of the ABC show "The Trouble With Normal". There is a strong possibility there will be a strike next year - actors, writers - pretty much everybody. So, obviously he wants to get as much work in as possible right now. Ryan kind of chuckled and said lucky he makes great lemonade - because we'll probably find him right there on the corner selling it.......Heh......Raise your hand if you'd pay just to see that.....did I mention I love my job here? Wish you all could have heard the delivery on that line. He really is his father's son.
Speaking of his father, he fully supports the new site Nancy McCoy-Hicks and I are developing as a tribute to Jack Cassidy.

He has volunteered whatever help he can. He also supports our campaign to get a star for Jack on the Hollywood Walk of Fame. Sounds like there might be a Broadway equivalent. If there is, we'll combine the two efforts. If you're interested in helping these campaigns, please contact me - this is going to take a lot of work but we can do it.
As of 5/22/00: First, unfortunately "Movie Stars" has been cancelled. It hasn't been formally announced but the cast and crew have been informed. What does this mean? Well, to be as blunt as he was, he's unemployed. However, this is actually a great opportunity for him to completely throw himself back into acting.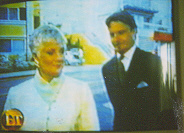 He really, truly wants to get back in front of the camera. He needed this time away from acting to realize how much he wants to do it. He chuckled to say that these years working behind the scenes has ben the longest he has really stayed with a career - but this drive to act is just too strong. He has enjoyed working on set dressing and design - it has given him a real trade to fall back on and at the same time has allowed him an outlet for artistic expression. Ryan's father was also quite talented in design and Ryan inherited the talent. However, there are other talents he has inherited. He was further nudged by a friend of his (actress Renee Russo) who has said she will help him out any way she can. The time just seems right and he is ready for this change. He has been working on something in his acting classes titled "Danny and the Deep Blue Sea". The play was written by John P. Shanley and has been performed in New York (copies of the play are available through Amazon.com - follow the link to the actual listing). Ryan and another student are working on getting everything together to perform it in one of the Los Angeles theaters. No idea where or when at this time - just whenever everything is ready. We will let you all know. He is also working on getting a good agent and getting out to audtions. He feels more prepared now - like he's doing it for himself and for the love of the craft.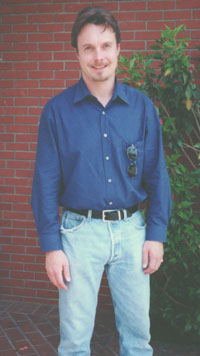 What else is he doing? Working on his house, spending time with Riley, family (he sees the nieces and nephews whenever possible) and friends - when he has free time.
Did anyone notice the David Cassidy refernce in one of the episodes of "Movie Stars"? So did Ryan, but he takes it in stride. It was bound to be done eventually. Every other celebrity family has taken a few shots.
As of 3/16/00: Ryan has been quite busy working on Movie Stars - so busy that he hasn't had time to attend his scene study class.
As of 2/27/00: Ryan says his birthday was great, thank you! He had dinner with a friend and got together with his family Sunday (2/27/00). When I asked if he was just making it last all week, he laughed and said "you bet!".
As of 11/29/99: Ryan spent Thanksgiving with his brother Shaun's family and will be spending Christmas with them as well. Patrick was unable to make it for Thanksgiving and Ryan doubts he'll be able to be there for Christmas. As for New Year's Eve, Ryan is considering a visit to Las Vegas to see David and his family but isn't sure yet. He joked about perhaps spending the evening crouched in his closet for fear of the dreaded Y2K but is seriously considering just having a bunch of friends over instead. He's not certain what he wants to do quite yet.