From Hello! Magazine - December 16, 1989
Following in the tradition of its predecessors Young Guns and The Long Riders, Jesse Hawkes, a new American television series, has assembled together a fine selection of fresh-faced actors who are all sons of some of the biggest names in Hollywood.
The veteran actor Robert Conrad, principally known for his role in the TV series Centennial but also for the big screen hits A Man Named Sloane and Ba Ba Black Sheep, co-stars in the action drama as well as being the director.
Not content just to bring his own two sons - Shane 22, and Christian 24 - in on the act, Conrad has gathered together the sons of some of his best friends in the business.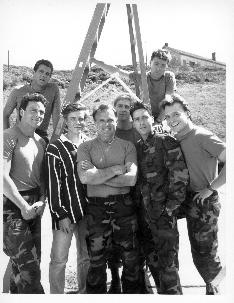 You may be recognise the faces but the names are legendary: Ryan O'Neal's son Griffin 24, screen hero Steve McQueen's son Chad 24, one of John Wayne's actor sons Ethan 27, Ryan Cassidy 23 - son of Jack Cassidy and Partridge Family mum Shirley Jones - and Ramon Sheen, the third of Martin Sheen's sons to hit the limelight.
With so much in common and such an illustrious example to follow, they have, not surprisingly, made for a first-class team and the series has already been a huge success in the States. We spoke to a few of them recently about what it had been like working together.
"The series turned us into real friends," Ramon Sheen confides. Many people are convinced that bitter competition is the name of the game amongst all young actors these days. I'm not saying we're not passionately involved in our work and we don't want to get on, but we're not prepared to fight amoungst ourselves to reach that goal - we think there's a place for all of us."
Tell us about the plot, Griffin
"We appear on the scene when a member of the army is killed. At this point Robert Conrad, who is also the director, is called in to investigate the case and so the action-packed story unfolds."
How do you react to the inevitable comparison between you and your famous fathers?
Griffin: "Philosphically. In some ways being the son of a famous father makes things a lot tougher for you. You're always performing to a public who expect the second generation to be even better than the first."
Ryan: "But on the other hand - it's not so bad, in that at least it helps to get your name known when you are starting out. But the disadvantages begin, as Griffin was saying, whent he public expect a lot more from you because of your name."
Ethan: "But I don't think that it has been a problem for any of us. The comparisons are quite logical, and I think it's really quite natural that when people see my name they immediately think of my father John Wayne. I would be disappointed if they didn't. Rather than being a burden, I think that it's something that we can all be proud of."
What's it been like for you, Shane and Christian, to be actually working with your father?
Shane: "Father is quite demanding of us because he knows we'll respond."
Christian: "But he demands nothing less than perfection. If something goes badly, his expression changes and he says 'People might call it nepotism, so we have to be perfect, otherwise our work won't ever be considered for its true worth.' It's tough sometimes - especially when you are giving it your utmost. So in that respect, father is a bit of a dictator although I know he's only doing it for our future."
The series looks like hard work
Chad: "Well, it hasnn't been easy. There have been scenes where we've had to get up at the crack of dawn and then run across a beach wearing the whole army rig-out. There have been exhausting times but it's been worth it."
Have you thought about working together in the future?
Griffin: "Not at the moment, but if we were offered the opportunity, it's quite likely we would accept. We enjoy working together and although we don[t exactly want to make a habit of it, we'd like to get together in the future."