Perhaps the role that he was best known for was that of Kevin Metcalf in the sixth season of NBC's The Facts of Life. The role was written for him and he did five episodes that season. The teen magazines pounced on him and built him up as a "teen heartthrob". The photo on the right is from an issue of "16" magazine published in the spring of 1985 where they placed him in the context of "Cassidy-mania". We can all be grateful they didn't throw hearts or little fluffy bunnies on it, but the photo itself is quite good. Below is the TV Guide ad promoting Ryan's addition to the Facts cast.

In the spring of 1989, CBS stirred up media attention as the short-lived Robert Conrad show Jesse Hawkes (formerly High Mountain Rangers) put together an episode about an elite infantry group called the "Centurians" stirring up trouble on a military base. At the center of this media focus was the decision to use a group of second generation actors. Besides Conrad's two sons Shane and Christian, the episode spotlighted Griffin O'Neal, Chad McQueen, Ramon Sheen, Ryan, and Ethan Wayne. While he only had 12-15 lines as Jake Hittman, Ryan made the character quite believable and was probably one of the best (even if underutilized) actors in the episode.


Some Photos From "The Centurians" Including Some From Ryan's Personal Collection!


A Great Page On Ryan's Main Episode At 80sChild.com
Please Join The Mailing List - Enter Your E-Mail Address.




TV Guide Ad For Ryan's First Facts Episode, "Two Men From Appleton" -- In This Episode, Especially In The Beginning, You Can Really See How Much Ryan Resembles His Father In His Acting Style.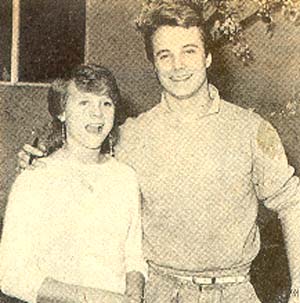 A Bit Of Publicity With A Teen Magazine


Photos of Ryan as Kevin Metcalf

A New Site For The Series
Another Fantastic Site For The Series
A Mackenzie Astin Fan Page

Here's Ryan (As Kevin) In The Unforgettable Robe From
"Man In The Attic" - It Simply Had To Be Tailored


This page has been visited
times.


A Promotional Shot of Ryan With Charlotte Rae and Mackenzie Astin From "With A Little Help From My Friends" (Episode #615) which gave us two wonderful lines: "It's not just a surfing movie. It's a psychological study of the beach community - a deep and probing analysis! And if you can't get behind that, there are some really gnarly tunes." (It's the delivery on that one that'll get ya.) Also, "First you'll drive me over to hear Gloria (Steinem) speak, then we'll grab a salad, rally for equal pay, and top it off by refusing to shave our legs!"