Thank You, Ryan!
Vote as often as you like. Results will be announced October 2, 2000!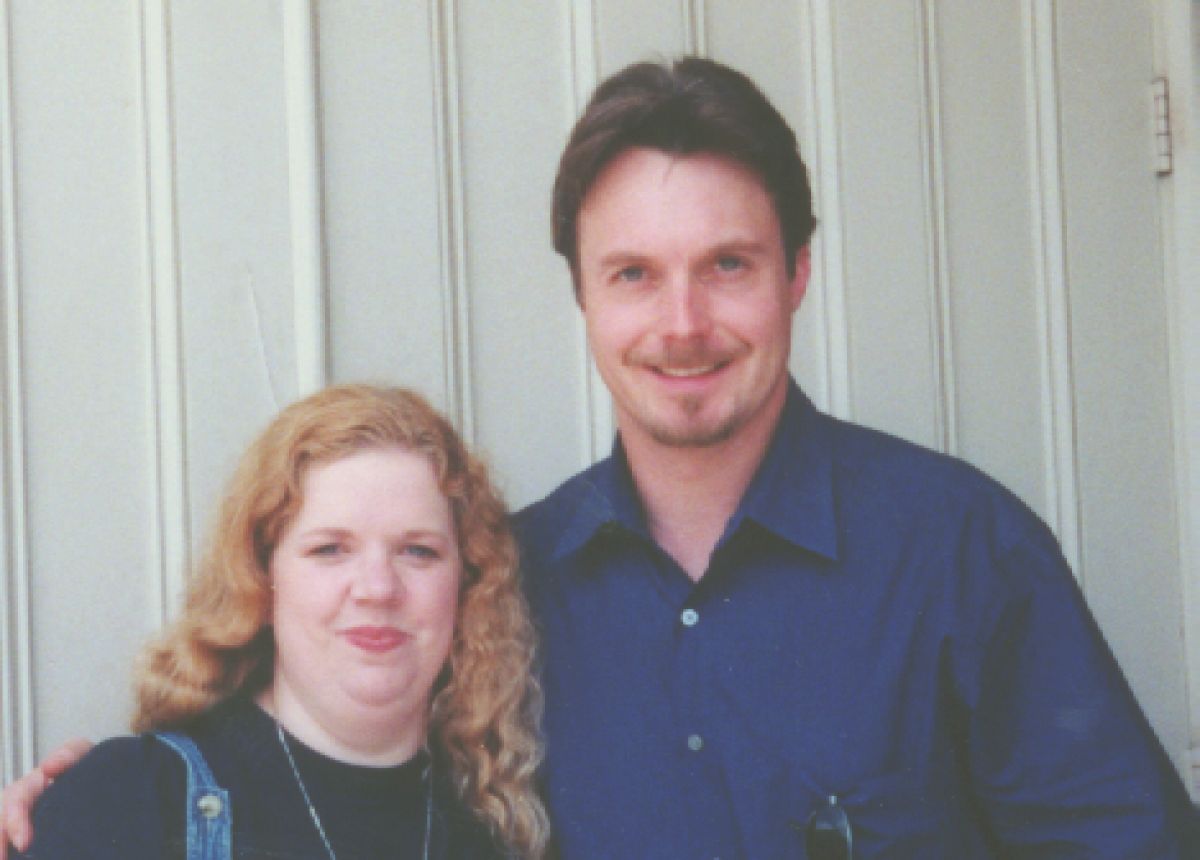 This page has been visited
times.


Ryan On Entertainment Tonight With His Mother June 6, 2000

1)Okay, we've set out to see the projects you've worked on (king of Queens and One True Thing being the most recent), but you're not given credit. Are you working with other designers? What's the reason?
They do not give film credits to "day player" art people. That's why I did not get a credit on 'One True Thing". I am working with some great new designers.

2)Aside of collecting Titanic memorabilia, what else do you do in that rare moment of free time? Is there anything else you collect?
My house looks like a museum. That's about all I can say.

3)What's your basic list of favorites? (Music, television program, movies, books...I think you know the drill.)
Movies and music about sum it up for me. Though I do admire and respect all the arts.

4)Do you have any pets?
A Boston Terrier named "Riley"

5)You're going to love this one. In the Titanic documentary, are you in the Butterfield & Butterfield auction footage? How did you become part of the documentary?
I was not in the auction footage. I believe I was after that part. A friend told the producer about my interest, and they called me. Subsequently came over and interviewed me.
Other News (As of 11/23/99): The E! True Hollywood Story on The Facts of Life is scheduled to air Sunday November 28! Check your local listings for time and channel. (See below for details)
(As of 11/22/99): Spoke with Ryan yesterday and have quite a bit of news! First of all, Ryan is no longer working on King of Queens! About a month ago he started working on the WB show Movie Stars which stars Joey Travolta, Don Swayze, Joey Travolta and Jennifer Grant. Ryan says they have all spent time talking and have become friends. Imagine the conversations..... He said the switch came because he had worked with the woman doing the design on this show and also because the drive is much easier (it's LA so that's a totally valid reason). He seems to really like working on this project and is having a great time.
Then there's the other piece of news: Ryan's primary focus now is restarting his acting career! He is working on both careers at the moment but is going to get an agent and start going to auditions again. If the right role comes along and auditions go well, he said he would step away from design! He has been working on a scene for acting class with a friend and says it is going great. This is exciting news and I know we are all waiting to see him once again on stage or screen!
Yet another piece of news: The E! Entertainment Network is doing a True Hollywood Story on The Facts of Life and Ryan has been interviewed. He said Charlotte Rae had spoken with them as well but there is no word on when the special will air. In other E! news, for those wondering about the Mysteries and Scandals on Ryan's father, Jack Cassidy, Ryan said all of them declined to be a part of that and he has not seen it yet. (But we are working on that.)
Also, and he offered this, so I'm passing it along: No girlfriend at the moment but he would be quite happy if the right girl came along. (File this under "still looking" and, no, I'm not accepting applications for him...)
I will be speaking with Ryan again this Wednesday so we can start to answer your e-mails and letters. He is sending me some autographed 8x10s for those of you who have requested them and is sending photos for the site. He wants to answer your questions and get caught up, so we will keep you posted!
More news imminently!
(As of 9/2/99): I heard from Ryan (indirectly - via an e-mail from C.L.) and he confirms that the crest shown on The Crest Ring Site is very close to the one on the rings. For those of you wanting to help in the search, you might want to hop over there and check it out. (Thanks to The Cassidy Clan Site for their help!) Ryan extends his thanks to everyone helping in the search. Also, he is quite busy working on King of Queens right now and it's keeping him from being as prompt as he wants to be but he will return the questionnaires I sent him as soon as things calm down!
(As of 7/25): After a few technical difficulties were ironed out, Ryan and I talked Saturday night - about where his career and interests are headed. He is headed back to work on King of Queens after quite a busy break. He has indeed received a promotion and is now heading set design and set dressing. However, this is not the only career he is looking at right now. He has been taking acting lessons - mostly for himself right now but is seriously thinking about returning to the stage and maybe doing some student films. He says he never really lost interest in acting while he pursued other avenues and is waiting to see where this leads.
On a sadder note, as I said in the bulletin I sent out, the Cassidy crest ring that belonged to his father has been stolen. We have all seen the guys wearing them over the years and obviously this ring holds a lot of sentimental value to Ryan and his brothers so if anyone out there sees or hears anything at all, please contact me at once so I can let Ryan know. I will pass along the proper credit but if at all possible, we need to get this ring back to its rightful owners! Thanks, everyone!
For those of you who sent messages and questions, we sent a whopping nine pages this time! Ryan received them on Friday, July 23 and sends his thanks to everyone for their continued support!
(As of 6/17): Ryan has visited the site and gives it the thumbs-up. This is what he had to say: "I enjoyed the stuff you sent me last week. I'm very pleased and pleasantly surprised by the high quality of the site. You must have put a lot of work into this."
(As of 5/10): Ryan called yesterday. He is currently on break from King of Queens and is working on some independent projects. He promised to keep us posted and answer whatever questions he can if we send them along. He wanted to pass along his appreciation for your support and messages.
(As of 4/30): Shirley wasn't alone when she appeared on the Donny and Marie Show April 27! Ryan was evidently with her and waiting in the green room. We didn't get to see him but Shirley passed along the information that Ryan is still working on King of Queens! Also, she shared that Ryan was the only one that really had a nickname growing up: Charlie. Evidently, Jack had always been fond of that name and just took to calling Ryan that rather than his given name.
(As of 4/10): Ryan and brothers Shaun and Patrick threw their mother a surprise party March 30 for her 65th birthday (on the 31st). Shaun invited Shirley to his house for what was supposed to be a casual visit only to find a surprise waiting for her!
(As of 9/10/00): Ryan is very busy working behind the scenes of the ABC show "The Trouble With Normal". There is a strong possibility there will be a strike next year - actors, writers - pretty much everybody. So, obviously he wants to get as much work in as possible right now. Ryan kind of chuckled and said lucky he makes great lemonade - because we'll probably find him right there on the corner selling it.......Heh......Raise your hand if you'd pay just to see that.....did I mention I love my job here? Wish you all could have heard the delivery on that line. He really is his father's son.

Speaking of his father, he fully supports the new site Nancy McCoy-Hicks and I are developing as a tribute to Jack Cassidy. He has volunteered whatever help he can. He also supports our campaign to get a star for Jack on the Hollywood Walk of Fame. Sounds like there might be a Broadway equivalent. If there is, we'll combine the two efforts. If you're interested in helping these campaigns, please contact me - this is going to take a lot of work but we can do it.

We have two promotions going on right now: First, please vote for a charity. The links to their sites are there if you're interested in details. You can vote as much as you want and I'll announce the winner October 2nd. Really, we can't lose because they are all great, worthy charities. Ryan couldn't decide. I couldn't decide -- so we're letting you decide!

Also, please remember to contact Nick At Nite to ask they they show Ryan's episodes of Facts Of Life. He was Kevin Metcalf in the sixth season (episodes 124, 125, 126, 128, 131). Please don't rely on everyone else to write in - it only takes a minute. Plus, if you cc or bcc me (webmaster@ryancassidy.zzn.com), I will hold a drawing and choose three people to win five photos of Ryan. If more than twenty people cc or bcc me, I'll choose five winners! You have nothing to lose and a chance to win so let's send e-mails to support Ryan! You can send them to postmaster@tvland.com
(As of 6/3/00): Ryan says the A&E Biography Special on his mom will run July 16 - so mark your calendars. Also, progress is going a bit slow on getting a theater to perform "Danny and the Deep Blue Sea" (More information on the play is on the FAQ page. He's a bit disappointed but still working on it. He'll let us know as soon as something is set. Also, for whoever asked, while I don't have the names of all three people who were on Merv when Ryan was interviewed, one of them was a new comic named Jerry Seinfeld. No kidding. For those of you who have it on tape, look at the far left side of the couch!
(As of 5/22/00): First, unfortunately "Movie Stars" has been cancelled. It hasn't been formally announced but the cast and crew have been informed. What does this mean? Well, to be as blunt as he was, he's unemployed. However, this is actually a great opportunity for him to completely throw himself back into acting. He really, truly wants to get back in front of the camera. He needed this time away from acting to realize how much he wants to do it. He chuckled to say that these years working behind the scenes has ben the longest he has really stayed with a career - but this drive to act is just too strong. He has enjoyed working on set dressing and design - it has given him a real trade to fall back on and at the same time has allowed him an outlet for artistic expression. Ryan's father was also quite talented in design and Ryan inherited the talent. However, there are other talents he has inherited. He was further nudged by a friend of his (actress Renee Russo) who has said she will help him out any way she can. The time just seems right and he is ready for this change. He has been working on something in his acting classes titled "Danny and the Deep Blue Sea". The play was written by John P. Shanley and has been performed in New York (copies of the play are available through Amazon.com - follow the link to the actual listing). Ryan and another student are working on getting everything together to perform it in one of the Los Angeles theaters. No idea where or when at this time - just whenever everything is ready. We will let you all know. He is also working on getting a good agent and getting out to audtions. He feels more prepared now - like he's doing it for himself and for the love of the craft.
What else is he doing? Working on his house, spending time with Riley, family (he sees the nieces and nephews whenever possible) and friends - when he has free time.
The A&E Network is working on a 2-hour biography on Ryan's mother, Shirley Jones. Is Ryan involved? Very much so. About two weeks ago he sat down with them and did about an hour and a half of talking - telling stories and such. He has also contributed a lot of photos - some that have never been seen by fans or press before. Shaun and Patrick have also done interviews. They have not interviewed David and there don't seem to be plans to include him. The best we can determine, it is because they wanted to concentrate on her children more than a stepson - but we aren't sure. The special should air in July.
How is the book coming along? It isn't right now. No pun intended, but it has been temporarily shelved. Parts are done but he is concentrating on the acting at the moment. He just has a lot of creativity buzzing about and is trying to focus his energy.
A few of you have wondered on Ryan's opinion on what is happening with Michael J. Fox. Ryan and Michael knew each other back and were quite good friends in the "Facts of Life" days and Michael made a point of visiting Ryan on the set as he filmed his first Facts episode. Ryan has always seen Mike as a man of real integrity and talent and while he hasn't completely kept up with things, he is truly sorry something like this has happened to someone he has always held so highly.
Did anyone notice the David Cassidy refernce in one of the episodes of "Movie Stars"? So did Ryan, but he takes it in stride. It was bound to be done eventually. Every other celebrity family has taken a few shots.
(As of 3/16/00): Ryan has been quite busy working on Movie Stars - so busy that he hasn't had time to attend his scene study class. If you've been trying to find Movie Stars onthe TV schedule, it will be returning to the WB network within the next few weeks. I'm getting conflicting reports. My local affiliate says it is returning this Sunday (3/19) at 9pm EST/PST but I have also heard April 2 in the same time slot. It just boils down to check you local listings!

Photo by E. Robbins (R-2)

(As of 2/27/00): Ryan says his birthday was great, thank you! He had dinner with a friend and got together with his family Sunday (2/27/00). When I asked if he was just making it last all week, he laughed and said "you bet!".
He is still working at the WB network on Movie Stars and was even busy at work at 7:30 on a Friday night!
(As of 11/29/99): Lina let me know that Ryan has finally been added to the IMDb (Internet Movie Database) as a designer for King of Queens - a little late and far behind but now that he's at least there, we can make additions easier!
Ryan spent Thanksgiving with his brother Shaun's family and will be spending Christmas with them as well. Patrick was unable to make it for Thanksgiving and Ryan doubts he'll be able to be there for Christmas. As for New Year's Eve, Ryan is considering a visit to Las Vegas to see David and his family but isn't sure yet. He joked about perhaps spending the evening crouched in his closet for fear of the dreaded Y2K but is seriously considering just having a bunch of friends over instead. He's not certain what he wants to do quite yet.
He will be portrayed in the upcoming television movie adaption of David's book. There has been a young boy hired to play him (we don't know the name of the actor) and the kid only has a few lines. The scene is supposed to take place by his parent's pool.
Ryan is in the early stages of writing a book. He says he realizes his experiences growing up were, shall we say, unique and he will write about those as well as the process he has gone through to find his own identity. The working title: James Cagney Was My Babysitter. For more information from my discussion with Ryan, go to the FAQ page!
Ryan also wanted me to express to all of you how much he appreciates your e-mails and support. He does receive them and read them and they mean a lot to him. We are working on responding to as many of you as often as we can. He also checks in on the site to see how things are going and let me know he fully supports what we do here. He is going to keep in touch and let us know what's going on in his life. He has also promised pictures and we will put those up in their own gallery when we get them! He has also promised to give us a call before Christmas just to keep us updated!